September 18, 2020
UPDATE: On September 21, the Cook County Health (CCH) Board approved by a vote of eight to three an amended FY2021 proposed budget with $40 million of additional County funding, instead of the $53 million in the September 11 version. That amounts to $10 million more than the $30 million increase originally approved by County Board President Toni Preckwinkle's office, but it is less than the $23 million addition in the CCH Board's September 11 budget proposal.
President Preckwinkle's office signed off on the $10 million compromise plan, which retains most of the major spending reductions described in the blog post below but restores seven staff positions in the Department of Public Health and provides transitional funding for the Morton East High School clinic and Children's Advocacy Center until new sponsors are located. The compromise also adds funding for regional healthcare planning, clinic services to address healthcare inequities, mental health services in underserved communities, a colon prevention initiative at Provident Hospital and a community scholarship fund for future healthcare professionals.
---
Over the objections of its Board Chair, Cook County's public health system has approved a $3.4 billion budget proposal for the upcoming fiscal year that relies on an additional $53 million in tax revenues from the County.
County Board President Toni Preckwinkle's office had previously authorized an increase of $30 million, bringing Cook County Health's (CCH) annual tax allocation for operations to $113 million. But CCH amended that preliminary budget proposal to include an additional $23 million increase, which would be used to help avoid layoffs, service cuts and facility closures in the fiscal year that begins on December 1, 2020.
The Board of Directors approved the FY2021 budget proposal on September 11 by a vote of seven to three, with Chair Hill Hammock among the Board members who opposed the plan. Mr. Hammock said the proposed budget is unbalanced—because it relies on $23 million in uncertain revenue—and thus is in violation of the health system's enabling ordinance. Supporters said the budget proposal was intended to signal to President Preckwinkle and County Commissioners that CCH needs more resources to continue serving as the area's main safety-net healthcare provider.
The health system's FY2021 budget has been particularly challenging because of a projected $187 million deficit. The budget gap is partly due to pandemic-related declines in patient visits but mainly reflects longstanding financial pressures. Despite the expansion of Medicaid coverage under the Affordable Care Act, the cost of uncompensated care—medical services provided but not paid for—remains high. CCH accounted for more than half of all charity care provided by County hospitals in 2018. Meanwhile, the health system has faced increasing costs for personnel and medical equipment amid declining demand from insured patients. CountyCare, CCH's Medicaid managed care plan, has not generated enough surplus to prop up the rest of the system.
The CCH budget must be approved by the County Board before being incorporated into President Preckwinkle's budget recommendation for the entire County. Given the County's own fiscal difficulties, it remains to be seen whether County Commissioners will endorse an additional $23 million tax allocation for the health system. As previously discussed on this blog, the County projected a deficit of about $222 million in its General Fund budget in FY2021 due partly to tax revenue declines related to COVID-19. The other two CCH directors who voted against the proposed health system budget were County Commissioner Dennis Deer, who chairs the County's Health and Hospitals Committee, and Otis Story, Deputy Chief of Staff to President Preckwinkle.
The additional County funds proposed for the health system are aimed at fully covering the costs of the Department of Public Health and health services at Cook County Jail and the Juvenile Temporary Detention Center—operations that generate little or no revenue. The $23 million would specifically cover indirect costs such as administrative expenses, which can be difficult to allocate to particular activities.  Even with the additional funding, the County's tax allocation for health system operations of $136 million would still be below the $164 million provided in FY2015. However, the County also pays for CCH's capital expenses and most of its pension costs, which together are expected to total about $299 million in FY2021.
If approved by the County Board, the extra $23 million for public and correctional health would free up funds to avert cuts in other areas, according to Robert Reiter, President of the Chicago Federation of Labor and Chair of the health system's Finance Committee, who led the push for more County support. After the CCH Board vote on September 11, health system officials were directed to identify cuts that could be restored.
The preliminary budget proposal developed by the health system's staff and cleared by President Preckwinkle's office would have closed the $187 million deficit with $55 million in expense reductions and $132 million in revenue increases. Many of the spending cuts drew opposition from community members and union representatives; more than 100 public comments, generally critical of the preliminary budget, were submitted and read at two virtual public hearings in September.
Spending reductions in the preliminary FY2021 budget include the following:
130 layoffs, involving 70 non-union personnel (46 of whom were previously laid off in June 2020) and 60 union personnel.
The emergency room at Provident Hospital would be downgraded to a less heavily staffed standby facility, reflecting a study showing 85% of ER patients could be seen in an outpatient setting. Provident has not had ambulance service since 2011.
Provident's staffed inpatient beds would be reduced to 10, reflecting average daily use of the facility, which is licensed for 85 beds but has recently staffed 16.
Two of the system's clinics, the Woodlawn and Near South Health Centers, would be consolidated into Provident's Sengstacke Health Center, which offers a broader array of services.
Stroger Hospital's pediatric inpatient unit would be suspended due to low volume, with average daily use of less than three beds in 2018.
CCH would end its support for the school-based clinic at Morton East High School in Cicero and for healthcare services at the Children's Advocacy Center in Chicago and seek other sponsors for those operations.
Despite the proposed layoffs, the preliminary budget increases full-time equivalent positions (FTEs) by 508 to 7,109 from 6,601. That increase includes 374 temporary positions for grant-funded contact tracers at the Public Health Department to track the spread of the coronavirus. If those positions are excluded, FTEs increase by 134, reflecting growth in CountyCare and correctional health.
The following table compares preliminary appropriations and FTEs for FY2021 with the adjusted FY2020 budget. The numbers in the table do not account for any spending changes due to potential approval of an additional $23 million in County funding.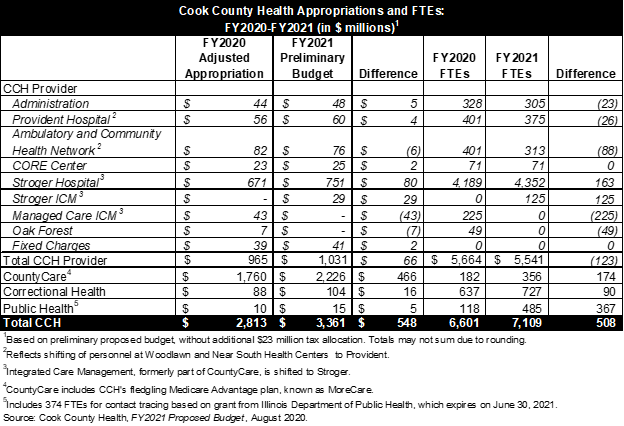 The total budget (not including any changes due to potential additional County funding) increases by $548 million, or 19.5%, to $3.4 billion from $2.8 billion in FY2020, largely due to growth in CountyCare. CountyCare membership is budgeted at a monthly average of about 356,000 in FY2021, compared with a budgeted 326,000 in FY2020 and a current enrollment of almost 369,000. Overall Illinois Medicaid enrollment has increased since the start of the pandemic due to job losses and the State's suspension of annual eligibility determinations as a condition of receiving enhanced federal reimbursements under pandemic relief legislation. CountyCare spending increases are expected to be covered by monthly Medicaid payments from the State of Illinois.
Staffing at Stroger increases due to replacing expensive personnel from outside firms with County employees and shifting physical therapy services from Provident. Integrated Care Management, which was part of CountyCare, is moved to Stroger and reduced in size. Healthcare workers are added at the jail's Cermak Health Services because detainees are being housed in more locations to prevent the spread of the virus. The preliminary budget also reduces the turnover adjustment—the amount used to reduce projected spending on salaries to account for vacated positions—at Stroger and Cermak so funding is available to fill vacancies.
Despite the reductions in acute care staffing at Provident, CCH officials said they remain committed to building a new $240 million hospital. The project was put on hold while the health system searches for a new CEO. Outpatient visits to Provident have been growing with new diagnostic and ophthalmology services and are expected to increase further with the planned opening of a new dialysis center. The health system also plans to shift some surgeries to Provident from Stroger to bolster demand for inpatient care. Last year the Civic Federation recommended that CCH focus on outpatient services at Provident and reconsider the construction of a new hospital.
The preliminary FY2021 budget has $3.4 billion in estimated revenues, including $2.2 billion from CountyCare. The $132 million in revenue increases to close the $187 million projected deficit include the $30 million additional County tax allocation, $56 million from increased State reimbursements for managed care patients served in the system and $10 million from a new State program that provides Medicaid coverage for undocumented seniors. CCH also has strategies to increase the collection of patient service revenue by improving medical coding and reducing the number of denied insurance claims.
The health system's proposed budget is expected to be introduced at a Cook County Board meeting on September 24. A cover letter accompanying the budget will express the CCH Board's concerns about vacancies and public health funding and recommend regional planning to address charity care and other issues. President Preckwinkle's FY2021 budget recommendation is due in October.