October 26, 2012
A national report on state budget issues released this week details the ongoing operating budget problems in Illinois and highlights the State's dire need to invest in its neglected infrastructure.
According to the State Budget Crisis Task Force report on Illinois, State and local governments could need to invest more than $300 billion over the next 30 years to maintain depleted roads, bridges, mass transit, water systems and other public infrastructure throughout the state.
The task force examined threats to near and long term fiscal sustainability in six U.S. states: California, Illinois, New Jersey, New York, Texas and Virginia. After releasing the findings of a national report in July, the group, led by former Federal Reserve Chairman Paul Volcker and former Lt. Governor of New York Richard Ravitch, is now releasing individual reports on each state included in their research. The Illinois report is the second to be released after California.
The overall findings show that, at the same time state revenues have been diminished by the economic recession, budget deficits have increased due to public pension and Medicaid costs. This budget crunch, the report says, is now crowding out funding for other government services and much needed capital improvements.
The infrastructure section of the task force's Illinois research is a synopsis of a forthcoming report by the Civic Federation. The Federation's research includes a compilation of various needs assessments from public agencies that manage infrastructure in the state and explores the need for a comprehensive approach to prioritizing and funding critical capital investments.
As discussed here, the State is beginning the fourth year of the Illinois Jobs Now! capital program. However, as the task force report highlights, Illinois lacks a comprehensive capital improvement plan to ensure the most critical needs are funded first and that the State's limited resources are spent effectively.
The identified $300 million in infrastructure needs is an aggregate of assessments conducted over the past five years. The following chart shows the estimated cost by type of capital investment and the timeframe of the need.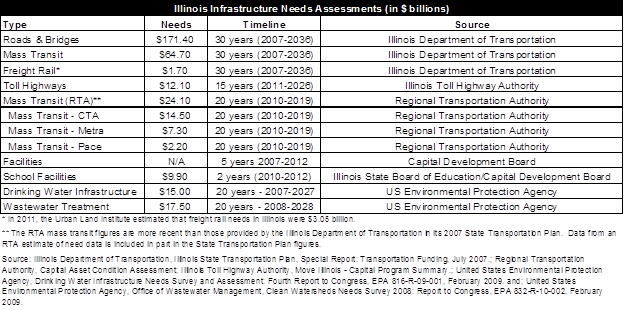 These assessments lay out very specific needs for funding of public infrastructure projects, which will be included in the Civic Federation's nearly 80-page report. The following synopsis provides more specifics on some of the findings.
Highways and Roads
Only 58.2% of highways and roads were rated excellent or good by the Illinois Department of Transportation (IDOT) and 41.8% were rated fair or poor in a condition rating and survey of highways conducted in 2010.
Bridges
According to the Federal Highway Administration's 2010 National Bridge Inventory, 15.2% of Illinois' 26,337 bridges assessed were structurally deficient or functionally obsolete.
Mass Transit
The Regional Transportation Authority's (RTA) Capital Asset Condition Assessment from 2010 shows that only 66% of bridges and public owned mass transit structures, including rail and bus maintenance facilities, were in a state of good repair; only 56.9% of train stations were in a state of good repair; 63.6% of Metra and CTA passenger rail cars are in a marginal state; and nearly 42% of rail cars were rated as past their useful life.
Aviation
The American Society of Civil Engineers' Illinois Report Card graded the aviation assets in the State as a C+, noting that 10% of pavements on runways are rated poor in IDOT's 2008 Airport Inventory Report.
Dams
The United State Army Corps of Engineers' National Inventory of Dams from 2010 found that 13.4% or 201 of Illinois' 1,504 dams had a high hazard classification; 335, or 22.3%, had significant hazard classification; and only 968, or 64.4%, received a low hazard rating. Meanwhile 83%, or 166, of the high hazard potential dams had an Emergency Action Plan (EAP) in place; 40.8%, or 125 of 306 dams for which there was information in the significant hazard category had an EAP plan; and 29.4% of the total or 442 Illinois dams were 50 years of age or older.
Although the State capital budget appropriated nearly $31 billion to fund some of these capital needs in FY2010, of which $20.7 billion remains to be spent, only $13 billion to $15 billion of that will come from the State through bond proceeds. The remaining funds are provided by federal grants and local matching funds. However, it is impossible due to the lack of a proper statewide capital improvement plan to know when each area of need will be addressed or effectively track the progress of these investments.
Meanwhile, on the funding side, the report from the State Budget Task Force concludes that, "As critical as the condition of Illinois' infrastructure is, it is unlikely that the state will be able to allocate additional resources to fix the problems in the foreseeable future. This is because the growth in spending for pensions, Medicaid, and debt service will out-pace the anticipated growth in Illinois' resources. Except for the 2011 increases in the personal and corporate income tax rates, Illinois' tax revenues have been stagnant for over a decade. The revenues from the tax increase have been offset by the decline in federal receipts as the stimulus program ended. And deeper cuts in federal funding are on the horizon, as the federal government works to reduce its own deficit."