March 30, 2010
Federal healthcare reform could increase the State of Illinois' Medicaid enrollment by 400,000 to 600,000 recipients beginning in 2014, but the federal government is expected to pay nearly all the additional cost for newly eligible recipients.
The new law would extend Medicaid coverage to all nonelderly individuals with incomes below 133% of the Federal Poverty Level (FPL) in 2014. The FPL is now $10,830 for a family of one and $22,050 for a family of four.
Under the new law, the federal government will pay 100% of the cost for newly eligible individuals from 2014 through 2016. The reimbursement rate to states declines to 95% in 2017 and gradually is reduced to 90% after 2019. Illinois' Medicaid spending is currently reimbursed at 61.88% under the American Recovery and Reinvestment Act of 2009, up from 50.32% before the Act. The federal recovery funds are scheduled to end by December 31, 2010 but would be extended another six months under a federal jobs bill.The bill has been approved by both the U.S. House and Senate and must go before a conference committee to iron out differences.
By 2019, the healthcare reform law is expected to increase Medicaid enrollment nationwide by 16 million over what it would have been under current law, according to estimates by the Congressional Budget Office. The Illinois Department of Healthcare and Family Services (HFS), which administers the program in Illinois, is assessing the impact of the legislation but has not yet completed its evaluation, a spokeswoman said.
However, officials at a Board of Directors meeting of the Cook County Health and Hospitals System said they expect a statewide increase of 400,000 to 600,000 because of the new law. Illinois Medicaid enrollment was estimated at 2.54 million as of January 2010, according to a presentation by HFS. Officials of the Cook County Health System, which operates Stroger Hospital, said they expect new state enrollees to cost the Medicaid program approximately $2,000 per person a year.
It is not clear how many of the projected new Medicaid enrollees in Illinois would be newly eligible and how many would have been eligible previously but decided to enroll because of new awareness of the Medicaid program. Costs for newly eligible enrollees will be reimbursed at 100% in 2014, while costs for previously eligible enrollees will be reimbursed at the regular matching rate then in effect.
Federal law has long required states to cover certain segments of the population in order to receive federal matching funds. Currently states must cover pregnant women and children under age 6 with family income below 133% of the FPL; children ages 6 to 18 below 100% of the FPL; parents below states' July 1996 welfare eligibility levels (often below 50% of the FPL); and most elderly and disabled people receiving Supplemental Security Income, for which income eligibility equates to 74% of the FPL for an individual. Regardless of income level, non-elderly adults without dependent children are excluded unless they are disabled or pregnant.
States have also been allowed to expand Medicaid eligibility to optional groups. Illinois, for example, receives federal matching funds for covering elderly and disabled people with incomes up to 100% of the FPL, children with family incomes up to 200% of the FPL and parents of low-income children up to 185% of the FPL. The table below shows the number of nonelderly, uninsured persons in Illinois by FPL.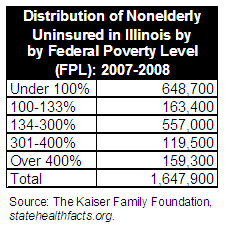 Illinois' Medicaid program covers a relatively large number of people but pays healthcare providers at relatively low rates, according to the latest available data comparing Illinois' program with those in other states. In 2006, 20 states and the District of Columbia enrolled more Medicaid recipients as a percentage of their population, according to the Kaiser Family Foundation. However, 41 states and the District of Columbia spent more per Medicaid enrollee. Illinois was among the bottom ten states in Kaiser's ranking of fees paid to physicians for Medicaid services in 2008.
Like other states, Illinois spends the most on disabled and elderly Medicaid recipients and the least on children and non-disabled adults. The table below shows Kaiser's 2006 breakdown of Illinois' Medicaid spending.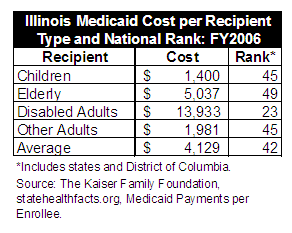 As mentioned above, Cook County Health System officials have predicted that new Medicaid enrollees would cost about $2,000 a person. The relatively low cost projected in that estimate suggests the new recipients would largely be childless adults without disabilities.
Officials of the Cook County Health System said at the meeting on March 26 that they hope to serve as many as 10% of the new enrollees. The Cook County Health System, which runs Provident and Oak Forest Hospitals in addition to Stroger Hospital, relies on Medicaid patients to help offset its uninsured patients, from whom almost no payments are collected. However, Medicaid revenues are down $10.6 million for the first three months of FY2010, which ends on November 30, 2010, from the same period in the prior fiscal year. Cook County Health System officials said they have been successful in enrolling more Medicaid recipients but apparently not in keeping them as patients. Warren Batts, Chairman of the Board of Directors, said the System will have to become "very patient-friendly" to attract those newly enrolled in Medicaid under federal healthcare reform.