September 21, 2018
The latest in a series about local governments, this blog post examines the number of park districts in Illinois, including an analysis of the number of park districts by county.
The park districts examined in this blog are stand-alone special purpose governments that provide public parks and recreation services and exclude park departments operated by another unit of government such as a municipality. The Civic Federation uses the number of park districts in the State reported by the Illinois Comptroller's Office as opposed to the U.S. Census Bureau's 2012 Census of Governments. The Census Bureau uses a broader definition of a parks and recreation district, which includes conservation districts, forest preserve districts and special recreation districts, and therefore reports 397 units, 49 more than the Comptroller's count of 348.
Number of Park Districts by County
According to the Illinois Comptroller's Office, 88 of the State's park districts are located in Cook County, or 25.3% of all park districts in Illinois.[1] As shown in the following table, the five suburban collar counties encompass another 78 districts: DuPage has 33, Kane has nine, Lake has 18, McHenry has four and Will has 14. In total, the six-county northeastern Illinois region has 166 park districts, or 47.7% of all park districts in the State. These counties are also the six most populated, totaling over 8.3 million residents according to the U.S. Census Bureau's July 1, 2017 estimates.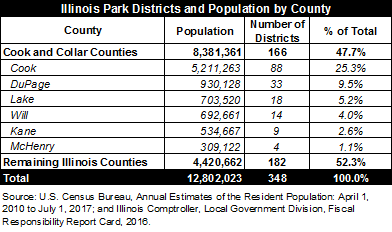 While there are park districts located in 75 of the 102 counties in Illinois, the majority of park districts are concentrated in a small number of counties. Eleven counties account for 202 of the 348 park districts, or 58.0% of the districts in the State. In addition to Cook, DuPage, Lake, Will, and Kane they include:
Tazewell with eight;
Hancock with seven;
McLean with seven;
DeKalb with six;
Fulton with six; and
Madison with six.
The remaining 64 counties with park districts have five or fewer park districts each. The graph below shows this distribution of park districts by county.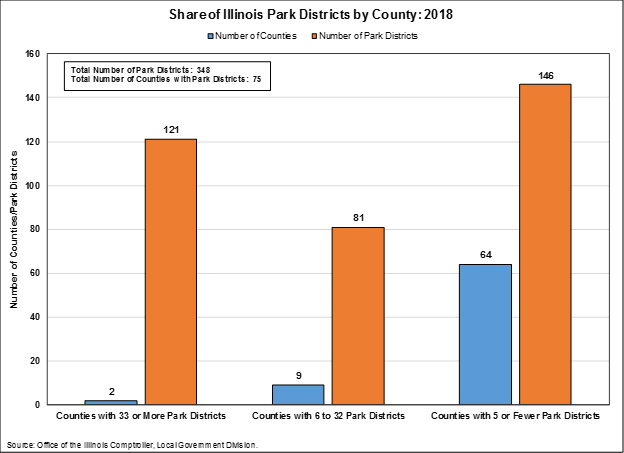 There are 27 counties that do not have any stand-alone park districts within their boundaries. The largest of these is Jefferson County with 38,179 residents. The following table lists these counties.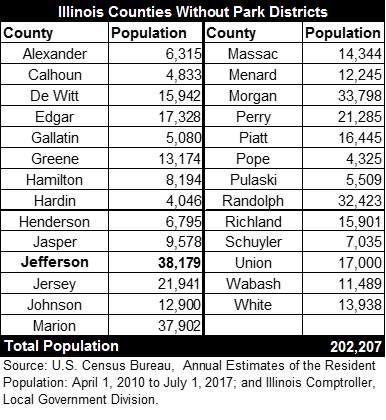 Counting governments requires agencies to make choices about how to categorize that can lead to discrepancies. For instance, the Illinois Comptroller tallies 88 park districts in Cook County, whereas the Cook County Clerk's Office counts 95.[2] This seven-district difference is due to several factors. Six of the districts the County Clerk's Office includes are park districts that overlap with neighboring counties. These districts are counted by the Comptroller's Office (and the Civic Federation for purposes of this blog) in those neighboring counties: Burr Ridge, Elmhurst and Oak Brook park districts are included in DuPage County, Barrington and Deerfield park districts are included in Lake County and Frankfort Square Park District is included in Will County. However, since some property taxpayers located in Cook County pay taxes to those districts, they are included in the Cook County Clerk's count. The seventh is the Westdale Park District, which was dissolved in 2006 into the Parks and Recreation Department of Leyden Township but still has a property tax levy.
Some park districts located in Cook County serve the residents of multiple municipalities and unincorporated areas or only a portion of a municipality. For instance, Pleasant Dale Park District covers parts of Burr Ridge, Countryside, Indian Head Park and Willow Springs as well unincorporated areas of La Grange and Hinsdale.[3] Similarly the Homewood-Flossmoor Park District serves both the communities of Homewood and Flossmoor.[4]
There are municipalities in Cook County that have a parks department and therefore are not included in the list of park districts.[5] Evanston has its own parks and recreation department in addition to two other stand-alone park districts within its municipal borders. The Ridgeville Park District provides park services in much of Evanston's southern portion, whereas the Evanston Lighthouse Park District maintains a lighthouse and a small area surrounding it on the coast of Lake Michigan.
***
A forthcoming report by the Civic Federation will provide similar analysis on all local governments in Illinois.
Related Links:
An Examination of Counties in Illinois
An Examination of the Finances of Illinois Community Colleges
The Multiplicity of Local Governments in Northeastern Illinois
School Districts and Property Taxes in Illinois
---