May 30, 2019
During Mayor Lori Lightfoot's first City Council meeting on May 29, 2019, new City Council Rules and Procedures were adopted by the Council. Also introduced was an ordinance amending the 2019 Annual Appropriation Ordinance to appropriate nearly $393,000 for audio and visual equipment to allow for the livestreaming of committee meetings.
For the past several years in blog posts and its annual analysis of the City's budget, the Civic Federation has advocated for the City of Chicago to livestream its committee meetings, which is where the bulk of the City Council's substantive legislative work is conducted.
The Civic Federation had most recently written on this topic in March 2019 when the previous City Council voted to approve Substitute Resolution 2018-1151 to require committee hearings to be broadcasted or aired via the internet. The resolution was scheduled to go into effect on September 30, 2019, "contingent on the availability of funds, duly appropriated by ordinance, sufficient for the purposes stated herein."[1] With the new Council Rules and Procedures for the Years 2019-2023 adopted, the streaming of committee meetings could take effect as early as June 2019.
The City of Chicago serves nearly 2.7 million people in 77 communities that cover approximately 228 square miles. The sheer size of the service area and the number of people that the City serves can make it very difficult for many interested parties to attend the meetings in person. The livestreaming and archiving of all meetings will therefore help the City reach more of its constituents and improve the transparency and accountability of the elected and appointed officials.
The following chart identifies whether other major local governments in Chicago livestream board and committee meetings. Chicago Public Schools, City Colleges of Chicago and the Cook County Health Board are the only three governmental bodies that do not livestream board and committee meetings. The Federation urges Mayor Lightfoot to follow suit with the livestreaming of Chicago Board of Education and City College Board of Trustees meetings.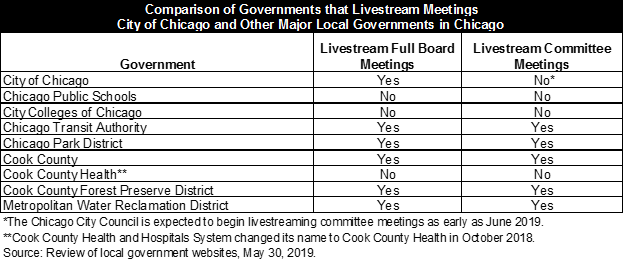 The Civic Federation again commends the Mayor and City Council for taking this step in improving the transparency and accountability of the City's elected and appointed officials.
Helpful Links:
Chicago City Council Approves Livestreaming of Committee Meetings
Livestreaming Chicago School Board Meetings Should Be a Priority for the Incoming Mayoral Administration
School Board Meeting Accessibility: Examples from Around Illinois
Financial Challenges for the Next Chicago Mayor and City Council
City of Chicago FY2019 Proposed Budget: Analysis and Recommendations
---
[1] City of Chicago, Substitute Resolution 2018-1151.