August 23, 2019
Cook County's public health system has sounded an alarm about the increasing cost of services for which it does not receive reimbursement, saying that Cook County Health will not be able to fulfill its mission of providing care to all—regardless of ability to pay—if the trend continues.
Cook County Health expects to provide $544 million of uncompensated care in the current fiscal year, which ends on November 30, 2019. That represents an increase of more than 8% from $502 million in FY2018 and a jump of 73% from $314 million in FY2014, after Medicaid coverage expanded under the federal Affordable Care Act (ACA). A year ago, the health system had projected that uncompensated care costs in FY2019 would be unchanged from FY2018.
The new figures were presented at a meeting of the health system's Finance Committee on August 23. The system's preliminary budget for FY2020 was scheduled to be unveiled at the committee meeting, but officials announced that the release date had been delayed for a week, until the August 30 meeting of the system's Board of Directors.
It is unclear whether the continuing growth in unpaid healthcare will cause the system to seek a larger tax allocation from the Cook County Board of Commissioners in the upcoming fiscal year. Cook County Board President Toni Preckwinkle's preliminary budget forecast for FY2020 assumed that the tax allocation to the health system would remain approximately flat from FY2019. The tax allocation declined from $252 million in FY2013 to $102 million in FY2019, with the FY2019 payment to the health system partially offset by the system's payment of about $29 million for employee pension expenses.
Uncompensated care consists of free care—also known as charity care—and bad debt, which involves patients' bills that cannot be collected. Health system officials have said that bad debt is mainly related to patients who would have qualified for charity care but did not complete the required paperwork.
As discussed here, the ACA significantly improved the Health system's finances by providing Medicaid coverage for adults who were previously treated free of charge. The ACA initially led to a dramatic reduction in the System's cost of uncompensated care, which declined by about 41% from $536 million in FY2013 to $314 million in FY2014. However, the decrease was short-lived. Uncompensated care rose to $405 million in FY2015 and has continued to increase.
The following chart, based on information presented at the August 23 meeting, shows the growth in uncompensated care from FY2013 to FY2019. The presentation stated that unpaid care was "trending up and growing at an unsustainable rate."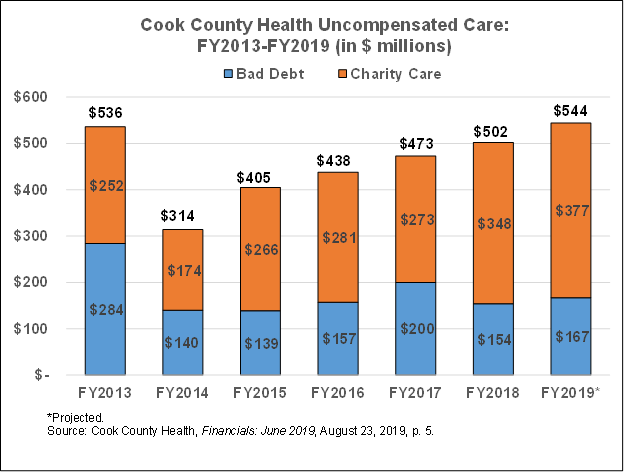 Health system officials initially attributed the increase in uncompensated care partly to unaffordable, high-deductible health insurance plans offered on the insurance marketplace created by the ACA. They also suggested that other hospitals were increasingly referring uninsured patients to the health system. More recently officials have also cited a significant decline in Medicaid managed care enrollment in Cook County, from 1,158,110 members in January 2018 to 1,008,053 in July 2019. The decline has been linked to the State of Illinois' new automated procedures for removing beneficiaries from Medicaid rolls if they do not fill out the forms required to renew their eligibility.
At the Finance Committee meeting, health system officials said all increased healthcare billings in FY2019 have been for patients who do not pay; charges for which the system is reimbursed have declined. Uninsured patients currently account for 40% of charges, up from 35% in FY2016. Officials have said the health system accounted for 53% of all charity care provided by Cook County hospitals in 2017, compared with 37% in 2013. During that period, the charity care provided by the health system rose by 15%, while other hospitals' charity care fell by 40%.
The concerns about rising uncompensated care costs come as the health system is dealing with an FY2019 budget deficit estimated at about $103 million in President Preckwinkle's preliminary budget forecast. The system expects to close $77 million of that gap with new Medicaid reimbursements for graduate medical education.
The health system is also facing increasing scrutiny over its financial practices in the wake of a critical report by the County's Inspector General. Cook County Health has disputed the findings of the report, which concerned unpaid healthcare claims at its CountyCare managed care plan. At the Finance Committee meeting, officials said an ongoing study by Deloitte addressing issues raised by the Inspector General is expected to cost $300,000.
Meanwhile, the health system recently announced plans to build a new $240 million facility for Provident Hospital, with debt service costs funded from patient service revenues. The health system had previously planned to build a $159 million regional outpatient center adjacent to Provident. The new plan involves 70 outpatient rooms as well as 48 authorized hospital beds, a reduction from 85 in the existing Provident Hospital. In FY2018 and FY2019, an average of about 12 patients per day stayed at Provident.