May 08, 2020
Revenue estimates presented at the April 29, 2020 meeting of the Cook County Independent Revenue Forecast Commission show the first details on how severe an impact COVID-19 is having on some Cook County tax revenues since Illinois' stay-at-home order went into effect on March 21. The estimates presented for the month of April 2020 show significant losses in tax revenue related to closures of bars, restaurants and retail, event cancellations and limited travel.
The County has estimated that the total budget shortfall due to loss of tax revenue in the current 2020 fiscal year will be at least $200 million. This revenue loss estimate is for the General Fund only, which accounts for general operations (primarily consisting of administrative functions, property tax administration, and the County's jail and court operations). These estimates exclude the Health Fund that accounts for operations of Cook County Health, a $2.7 billion operation.
The chart below shows the breakdown of revenues that support the General Fund as originally budgeted for FY2020 last fall, totaling $1.9 billion. By comparison, the County's total approved budget including all funds is $6.2 billion. As shown below, sales tax revenue makes up the largest portion of General Fund revenue—44.2%. Other taxes and fees combined make up another 36.7%. More detail on the County's funds and revenue sources can be found here.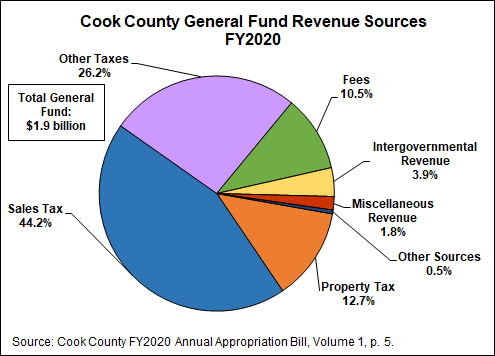 April Estimates
The April 2020 revenue information included in the Cook County Bureau of Finance's first quarter presentation to the Independent Revenue Forecasting Commission at its April 29 meeting is shown in the tables below.
Sales tax revenue in April 2020 is down by 24% from the prior year. The largest portion of sales tax revenue for the County comes from drinking and eating places (restaurants and bars). The restrictions on these establishments due to COVID-19 has resulted in a 40% loss in April revenue. Significant declines have also occurred in other retail sectors, including apparel, furniture and automotive.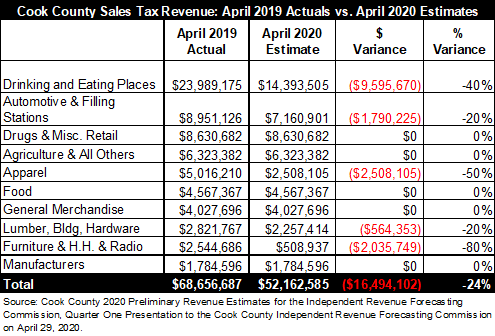 Revenue estimates for other tax sources also show significant revenue losses for April compared to budgeted amounts. The hotel tax, amusement tax and parking lot and parking garage taxes have each seen losses between 80% and 90%. The County's use tax, which is a 1% tax on the purchase of titled property (mainly vehicles), is down by $3.2 million, or 44%. Gas tax revenue is down by $2.6 million, or 33%. Taxes related to gambling have also declined. However, tax revenue from sales of alcohol and firearms have increased. Cigarette and other tobacco tax revenue fell slightly by 4%, although County finance officials noted that cigarette tax revenue has been declining steadily for many years due to declines in usage. The State of Illinois also passed legislation increasing the legal age to purchase tobacco from 18 to 21, which took effect in July 2019.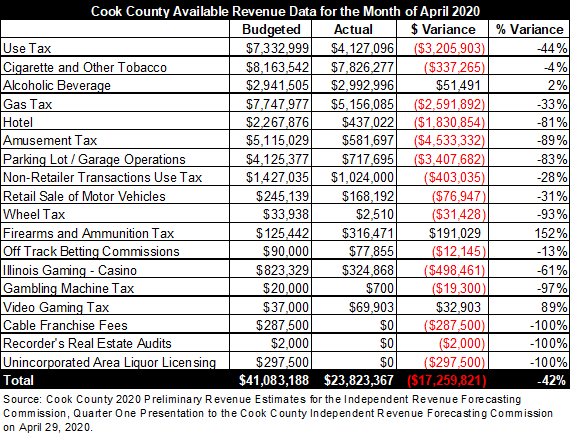 These estimates are just the beginning of what will be significant budget gaps facing counties, municipalities and states, not only in Illinois but across the U.S. as a result of COVID-19. The federal stimulus packages passed so far have not included any aid that can be used by state or local governments to replace revenue lost as a result of economic closures. Replacement of lost revenue from the federal government will be necessary to avoid disruption to essential government services.
About the Independent Revenue Forecasting Commission
The Cook County Independent Revenue Forecasting Commission was established in 2018 with the intention of helping the County Board of Commissioners make informed budgetary decisions by reviewing and analyzing the five-year forecasts developed by the President's Office. The enabling ordinance requires the Chief Financial Officer to present a forecast and associated methodology and data in July of each year, which the Commission will assess and provide feedback and recommendations, before reaching consensus on a final forecast in August. That forecast is then presented to the Board of Commissioners and used in preparation of the County's annual budget each fall.
The Commission began meeting in July 2019. So far, in the first year of activity, the Commission has focused on improving the accuracy and consistency of forecasts and the underlying models and data used. The purpose of the April 29, 2020 meeting was to review how the Bureau of Finance has begun to incorporate the Commission's recommendations issued in August 2019, review the methodologies being used to formulate preliminary revenue estimates for the current and next fiscal year, discuss the economic pressures and associated revenue impacts due to COVID-19 and discuss next steps. The Commission plans to continue meeting on a quarterly basis.
Related Links:
Cook County Establishes Independent Revenue Forecasting Commission
Cook County's Newly Formed Independent Revenue Forecasting Commission Holds First Meeting