July 24, 2009
Today the Civic Federation released its analysis of the FY2010 City Colleges Tentative Annual Operating Budget, supporting the District's $492.1 million spending plan. The Federation believes the District is proposing a prudent budget, increasing appropriations by 0.9% over adjusted FY2009 budgeted appropriations, freezing the property tax levy for the next two years and proposing an alternate funding plan for core academic programs in light of uncertain funding from the State of Illinois.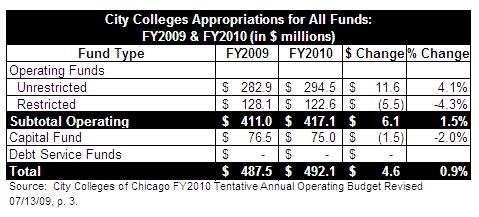 The Federation does express concern, however, over a projected funding gap of $12.7 million by FY2013 and the District's lack of a detailed, public plan to address the impending shortfall. To help resolve this situation, the Federation is recommending that the District continue to develop its long-term financial plan and performance measurement system as a means of explicitly, and publicly, outlining a plan to bring expenditures in line with revenues.
Each year the Federation conducts budget analyses for nine local governments, as well as the State of Illinois, evaluating the proposals and offering recommendations on ways to improve transparency, accountability and efficiency. This year City Colleges discussed with the Civic Federation the ways in which it has adopted previous recommendations made by the Federation. Many of the recommendations adopted by City Colleges are in response to calls for increased data disclosure, including:
A detailed description of predicted funding gaps for FY2010 and how they will be closed;
Summary tables that provide operating fund data grouped by both object and program;
Projected expenditures for employee health benefits; and
Data that depicts the District's gross property tax levy, including the property tax levied by the City of Chicago on behalf of City Colleges.
 City Colleges has also begun to list management efficiencies that have been implemented, along with the associated dollar cost-savings, after the Federation requested this information to help the District highlight its accomplishments.  Recently the District also implemented key facets of a formal long-term financial planning process and a performance measurement system; both of which the Civic Federation has called for in its previous analyses.
Article
City Colleges of Chicago FY2010 Tentative Budget: Analysis and Recommendations