September 06, 2019
The City of Chicago recently released its Budget Forecast for FY2020, which provides financial estimates for the City's fiscal year ending on December 31, 2019 and a forecast for the next fiscal year and following two years.
This is the first forecast produced by Mayor Lori Lightfoot's administration since she took office in May 2019. The Forecast was released shortly after the Mayor's State of the City Address where she laid out the financial challenges facing the City and how she hopes to address them. Under the previous mayoral administration the City produced an Annual Financial Analysis that was required by executive order to be released by July 31st each year. Mayor Lightfoot issued Executive Order No. 2019-3 that requires a financial forecast be released no later than August 31st of each year. The forecast includes a general economic outlook, year-end estimates of revenues and expenditures, a three-year forecast, a summary of reported pension liabilities, an overview of the Tax Increment Financing (TIF) program, a summary of outstanding debt and an analysis of reserves. The City also provided a budget forecast summary available in multiple languages and is seeking input from the public through a budget town hall survey to better guide the City as it works to address its financial challenges.
Projected FY2020 Corporate Fund Budget Gap of $838.2 Million
In its forecast, the City projects a FY2020 budget gap of $838.2 million in the Corporate Fund, the City's general operating fund. This is the gap that the City's FY2020 budget will need to close through some combination of efficiencies, budget cuts and revenue increases. The budget gap is driven primarily by projected increases in expenses, including personnel spending on salaries and wages tied to collective bargaining agreements, debt service payments and pension contributions to the City's four pension funds.
The chart below shows changes in the initial projected budget deficit since 2008. The preliminary budget gap grew significantly between FY2008 and FY2011, from $217.7 million to $654.7 million, before declining to a low of $97.8 million in FY2019. The City's FY2019 Annual Financial Analysis credits this decrease to actions taken to increase revenue and generate savings through reduced health care costs, lease consolidations, energy efficiencies and phasing out the use of non-recurring revenue sources. However, the City's prior preliminary budget forecasts of projected budget shortfalls did not include projected increases in expenses related to long-term liabilities such as pension and debt service.[1] The FY2020 preliminary budget gap includes these long-term liabilities in its projections. It does not include new revenue sources, new investments to be added or unanticipated long-term liabilities.[2] The forecast projects that the budget gap will grow to $1.2 billion within the next three years based on existing revenue and expenditure projections.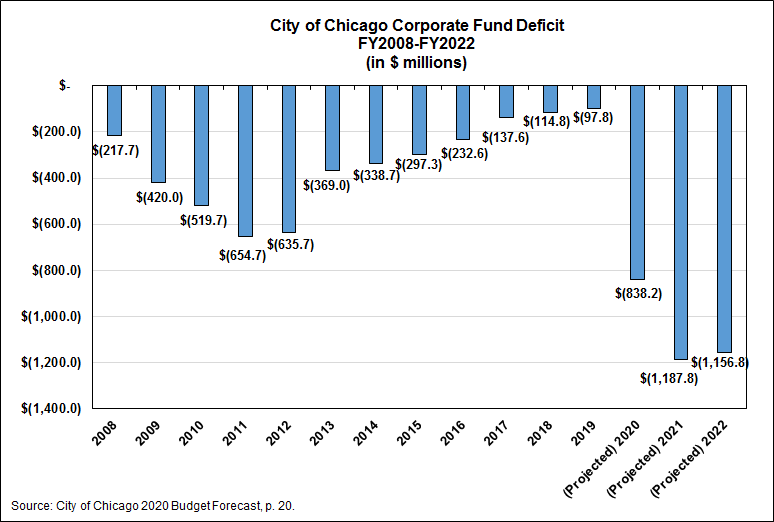 Fiscal Year 2019 Year-End Estimates
The City projects that FY2019 year-end revenues and expenditures in the Corporate Fund will end with a surplus of $26.5 million. Corporate Fund revenues for FY2019 are estimated to be approximately $3.84 billion, compared to budgeted revenue of $3.82 billion. The revenue surplus is primarily due to the strong performance of some revenues sources including the personal property lease tax and personal property replacement tax. Corporate Fund expenditures are estimated to be $3.82 billion, or 0.01% lower than budgeted expenditures. Personnel expenses related to overtime spending and benefit claims are projected to end FY2019 over budget, but are offset by anticipated savings in contractual services due to the timing of contract expenditures.[3]
The table below compares the adopted FY2019 budget and FY2019 year-end estimates with FY2020 projections. Corporate Fund resources in FY2020 are projected to be $3.83 billion, which is 0.3% lower than the FY2019 year-end estimate. This $10.7 million decrease is due to slight reductions in non-tax revenue and intergovernmental revenue, as well as reduced usage of available prior year resources from $76.0 million in FY2019 to $38.0 million in FY2020. These resource reductions are partially offset by projected increases in local tax revenue, primarily from the personal property lease tax, and transfers in from the Sales Tax Securitization Corporation.[4]
Corporate Fund expenditures are projected to total $4.67 billion, an increase of $854.0 million, or 22.4%, from the FY2019 year-end estimate. This projected increase in expenditures is driven largely by the following factors: a $282.5 increase in personnel services based on collective bargaining agreements; a $277.4 million increase in required pension contributions based on statutory pension funding schedules; a $114.0 million increase in debt service; and an $89.9 million increase for settlements and judgments as the City transitions those costs out of other funds and into the Corporate Fund.[5]

The City is required to produce a balanced budget annually for the fiscal year that begins on January 1. The Mayor is expected to present the City's annual budget proposal in October, which means the Mayor's administration will have only a matter of weeks to identify sources of revenue and budget cuts or efficiencies that could close the $838.4 million budget gap throughout the course of the 2020 fiscal year. Mayor Lightfoot referred to some ideas in her State of the City Address, such as a graduated real estate transfer tax and a congestion tax, as well as ideas that would require State of Illinois support and approval such as restructuring the casino tax. She also noted several steps taken already to reduce the original deficit by about $200 million including professionalizing the workers' compensation system, refinancing long-term debt and reducing short-term borrowing. Any remaining potential solutions to the City's serious financial challenges will be politically difficult and require the Mayor and City Council to make very tough decisions.
Helpful Links:
Financial Challenges for the Next Chicago Mayor and City Council
---