November 26, 2019
The Chicago Board of Education adopted an amended budget for the Chicago Public Schools (CPS) 2020 fiscal year on November 20, 2019 to account for changes reflected in the collective bargaining agreements reached between Chicago Public Schools and the Chicago Teachers Union (CTU) and the Service Employees International Union (SEIU) for FY2020 through FY2024. The CPS fiscal year runs from July 1 through June 30.
The CPS FY2020 operating budget approved in August totaled $6.18 billion. New investments in the contracts with the CTU and SEIU are projected to cost $137 million in the first year, FY2020, of which $89 million had already been budgeted for in the adopted budget. Therefore, the added cost for the contracts in the FY2020 amended budget is an additional $48 million in the first year. This consists of $33 million in added expenses for the CTU collective bargaining agreement and another $15 million for the SEIU collective bargaining agreement.
The $33 million increase for the CTU agreement includes: $15 million from increased wages related to 3.0% cost of living adjustments (CPS had originally budgeted for 2.5% salary increases); $11 million related to a restructured wage scale for support staff; $5 million for various incentives and supports for substitute teachers in high need schools, support for students in temporary living situations and recruiting and hiring initiatives for clinicians; and $2 million for class size reduction.
The $15 million increase for the SEIU agreement includes $2 million for 3.0% incremental cost of living adjustments (CPS had originally budgeted for 2.5% salary increases) and $13 million for a restructured wage scale or stipends for special education classroom assistants, security guards, custodians and bus aides.
The amended FY2020 budget reaches balance through a number of changes in revenue and expense projections. In addition to the $48 million in increases costs for the contracts, CPS will no longer receive $60.0 million from the City of Chicago for the employer contribution made to the Municipal Employees' pension fund for CPS non-teacher employees. The District is also reducing its use of short-term borrowing by $26 million.
These expenses are offset by an additional $66 million in Tax Increment Financing (TIF) Surplus on top of $97 million previously budgeted. The additional TIF Surplus this year is due to the City of Chicago implementing a more aggressive policy to sweep TIF funds not reserved for development projects. CPS also expects to save $68 million from six of the eleven school strike days not being made up. The District estimates that each day of the strike would cost approximately $11 million in retroactive payments.
Because CPS will now be contributing $60.0 million to the Municipal Employees' Annuity and Benefits Fund (MEABF), the District will be required to account for all employer contributions made to the MEABF by both CPS and the City of Chicago. The total FY2020 employer contribution to the MEABF for CPS employees is $198 million. The City will make a $138 million contribution to the MEABF to cover the CPS portion of the pension fund's unfunded liability. To reflect the additional payment made on behalf of CPS by the City, revenue and expenses will both increase by $138 million. This is an accounting treatment and not a material budget change.
The table below shows the measures described above to balance the amended FY2020 budget of $6.32 billion.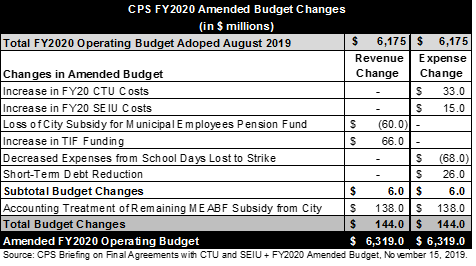 By the end of the five-year contract, CPS will need an additional $558.3 million to make the committed investments. CPS says that it can afford the contracts and that projected deficits over the next four years are manageable. The District expects its State and local revenue to grow by $200 to $250 million annually and it projects that it will be able to absorb $30 to $40 million of commitments into the District's existing cost structure.
The collective bargaining agreement with the Chicago Teachers Union runs through June 30, 2024. The following are some of the commitments made in the CTU contract, several of which the District had previously announced:
Cost of living increases of 3.0% in FY2020, FY2021 and FY2022, and increases of 3.5% in FY2023 and FY2024. This is a cumulative salary increase of 16%;
An additional 250 nurse positions by July 30, 2023, one for every school;
An additional 209 social worker positions by July 30, 2023, one for every school;
An additional 180 case managers by July 30, 2023;
A $35 million per year commitment to fund class size relief;
An increase in employee healthcare contributions of 0.25% in 2023 and 0.5% in 2024 (with no change in 2020 through 2022);
An increase in the number of sick days members can bank from 40 to 244. The days can be used for sick days, leaves or pension service credit, but cannot be paid out upon retirement;
New positions for schools with large numbers of students in temporary living situations (homeless);
An annual investment of $5 million for pay increases for veteran teachers;
$500,000 over the life of the contract for recruiting and training clinicians; and
Higher pay rates for substitute teachers in high needs schools and substitute teachers with special education licenses.
Related Links:
Chicago Public Schools FY2020 Proposed Budget: Analysis and Recommendations
Chicago Public Schools' Amended FY2017 Budget and Capital Plan