May 20, 2022
Chicago Mayor Lori Lightfoot has selected Bally's Corporation to develop a mega casino in the River West neighborhood at the site of the Chicago Tribune's current printing plant at Chicago and Halsted Avenues. In addition to the casino, Bally's proposes the development of a theater, an outdoor music venue, a hotel, an extension of the Riverwalk, a park, restaurants and other amenities. The goal is to open the casino in 2025. A temporary casino is slated to open during construction at the Medinah Temple at 600 North Wabash Avenue.[1]
Bally's is a major gaming company headquartered in Providence, Rhode Island, that owns and manages 14 casinos in 10 states, a horse racetrack in Colorado, a sports betting platform and a fantasy sports site. It also has access to off-site betting licenses in 18 states.[2]
The Bally's casino proposal was chosen over two other sites in the South Loop from Hard Rock International and Rush Street Gaming. It must be approved by the Chicago City Council. If the proposal is successful, the Illinois Gaming Board must then approve Bally's application for a casino license, a process that can take up to one year.[3]
Legislative Changes for Chicago Casino Tax Rate and Fee Payments
In 2019 to pay for its $45.0 billion multi-year capital plan called Rebuild Illinois, the State enacted two revenue bills, one to pay for "horizontal" transportation projects such as roads and bridges and a second to pay for "vertical" non-transportation construction projects such as facilities.
Public Act 101-0031 authorizes revenues dedicated to "vertical" construction projects. These revenues were expected to generate approximately $810 million annually at full implementation. About $460 million was projected to come from multiple sources, including an increased tax on cigarettes, a parking garage tax, a limitation on the sales tax exemption for traded-in vehicles and new rules to collect sales tax from online retailers. The "vertical" revenue bill also authorized a massive expansion of gambling, including legalization of sports wagering, five new casinos around the state and a mega casino in Chicago. Once implemented, the gaming expansion was expected to generate $350 million annually at full implementation plus several hundred million dollars more in upfront license fees for new and expanded gambling facilities. [4]
After approval of the vertical revenue legislation, the City of Chicago expressed concern that the tax burden it imposed on a city casino was too high to attract investors and this would jeopardize the gaming funding stream for the non-transportation projects as well as the City treasury. [5]
In response to the City's concerns, the General Assembly approved and the Governor signed Public Act 101-0648 in 2020, which replaced the originally enacted 33.3% city tax on post-payout revenue with a graduated tax structure on slot machines and table games ranging from 10.5% on revenue up to $25 million to 34.7% of revenue greater than $1 billion.[6] In contrast, other municipalities only receive a 5% share of revenues.[7]  It also increased the timetable for reconciliation fee payments for all Illinois casinos from two to six years and gave applicants a longer period of time to pay for a license if the Illinois Gaming Board approves.[8]
Chicago Casino Revenues to be Earmarked for Police and Fire Pension Funding
The impetus for the city's push for a casino is the need to identify a multimillion-dollar recurring revenue source to pay for upcoming required increases in pension funding for the Police and Firefighter Pension Funds. Contributions to these funds are projected to increase by approximately $50 million in FY2023 from the prior year, and by nearly $200 million from FY2022 through FY2026.[9] The City estimates that once the Bally's casino is operational, it will yield up to $192 million in annual tax revenue. Bally's will also pay the City $40 million upfront in fees and $4 million annually thereafter.[10]
The Civic Federation has concerns over the City of Chicago's proposed reliance on casino revenues as a major funding source for its Police and Firefighter pension funds. While a casino may generate some budgetary relief, gaming revenues can be unreliable, particularly over the long run, and should be budgeted with caution.[11] The State of Illinois currently has 11 casinos and thousands of video gaming locations. With an additional 6 casinos including the Chicago casino, the legalization of sports gambling and more and more video gaming locations, there is greater potential for market saturation.[12] Therefore, the Civic Federation cautions that the City will need to develop contingency plans to supplement unreliable casino revenue when planning for future pension contributions.
Illinois Casino Gross Receipts and Tax Allocations 2019-2022
Illinois casinos were closed between March 16 and June 30, 2020 due to the COVID-19 pandemic.[13] Consequently, revenues and tax allocations plummeted. By early 2022, however, with casinos fully in operation, casino finances have rebounded. The chart below shows year over year changes in adjusted gross receipts and tax allocations between May 2019 and April 2022, the last month for which complete data are available.
Between May 2019 and May 2020, casino adjusted gross receipts fell 41.5%, declining from $1.1 billion to $684.9 million. The trend was reversed between May 2021 and April 2022, when receipts rose to nearly $1.3 billion, an 88.7% or $607.7 million increase. State and local tax allocations from casino operations fell from $406.7 million between May 2019 and May 2020 before rising to $339.6 million in the succeeding one-year period.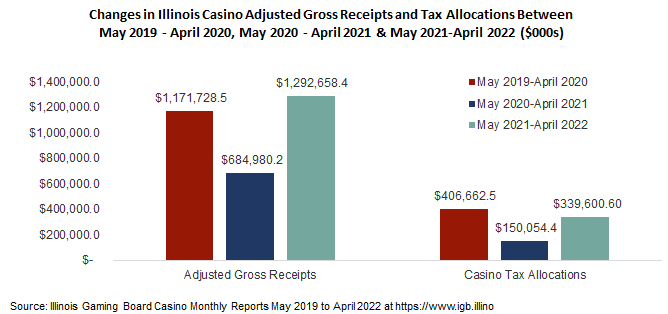 The Illinois Gaming Board reported that in the one-year period between May 2021 and April 2022, total adjusted gross receipts from the state's eleven casinos totaled nearly $1.3 billion. Rivers casino in DesPlaines accounted for 38.2% or $493.3 million of the total amount. The casino reporting the second highest amount was the Grand Victoria in Elgin, with $155.9 million in adjusted gross receipts.[14]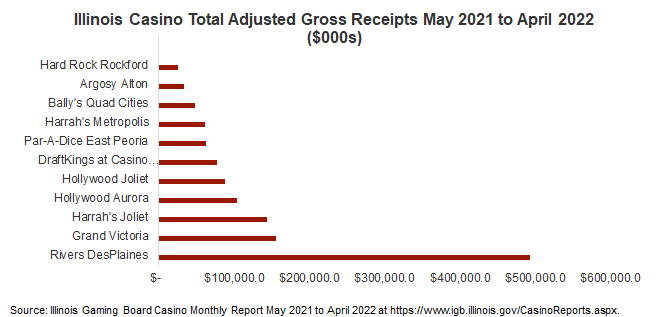 The next chart shows that Illinois casino tax allocations in the one-year period between May 2021 and April 2022 were $339.6 million. Of that amount, the state share of taxes was $266.4 million and the local share was $73.2 million.[15]