August 21, 2009
Since 2004, the City of Chicago has transacted three major long term asset leases worth over $3.5 billion.
The Chicago Skyway (2004) – A 99-year lease with Cintra-Macquarie with a transaction value of $1.83 billion.
Downtown Parking Garages (2006) – A 99-year lease with Morgan Stanley. This transaction was also with the Chicago Park District. The total value of the transaction is $563 million.
Chicago Parking Meters (2009) – A 99-year lease with Morgan Stanley with a transaction value of $1.15 billion.
What has the City (and the Chicago Park District) done with those billions of dollars in proceeds? The answer can be found on the City's website.  
It provides information about:
The original ordinance authorizing the transaction.
The cost of the transaction.
How the funds were used (called Reserve Balances or Use of Proceeds).
We've summarized the financial data you will find in individual sections in the table that follows. Here is an explanation of what the terms mean:
Long Term Reserve Fund – These are funds that the City will not use for day to day operations. The money is invested and earns interest, which can be used for general operations. Maintaining reserve funds is critical to maintaining the City's high bond rating.
Interest Earned – Interest earned by investing the Long-term reserve funds.
Mid-Term Reserve Fund – These funds are like annuities that will be drawn and used for operations over a period of several years.
Transfers to Corporate Fund – These are amounts that have been used to date for the City's general operations. The Corporate Fund is Chicago's General Fund.
Current Balance – How much money is left in each account as of June 30, 2009?
Human Infrastructure Fund – Monies used to pay for the operation of social service programs.
Debt Defeasance – Monies that were used to retire existing debt.
Bicentennial Park Reconstruction – Funds set aside to reconstruct Daley Bicentennial Park. This reserve will be drawn upon when the East Monroe Street garage is reconstructed in 2011 by the private operator.
Replacement Reserve for Lost Parking Garage Revenues – This money will be set aside will be used to replace parking garage revenues that the Chicago Park District formerly received. Net annual parking garage revenues of $5 million will be replaced with earnings from the fund.
Budget Stabilization Fund – These monies from the Chicago parking meter long-term lease are to be used to help cover operating budget shortfalls in fiscal years 2008-2011. Since the table was prepared, the City has announced that it will use $268.7 million of these proceeds to help eliminate the fiscal year 2009 budget deficit and approximately $51.3 million to reduce the projected fiscal year 2010 deficit. Those actions will effectively eliminate this fund (Information provided by Chicago Office of Budget and Management, July 30, 2009).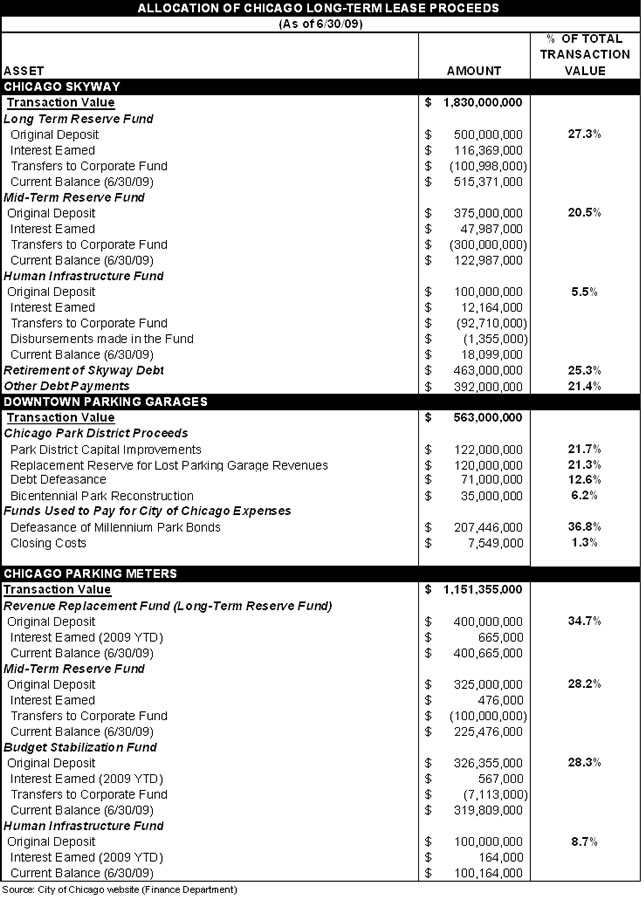 To learn more about privatization and alternative service delivery, read our Issue Brief.