October 22, 2012
(CHICAGO) – In a report released today, the Civic Federation supports DuPage County's Proposed FY2013 Financial Plan for holding the property tax levy flat and reducing its headcount while maintaining a healthy fund balance. The full report includes a review of the proposed $431.8 million budget as well as five-year trend analyses for the County's pension, debt and capital liabilities.
The proposed budget holds the property tax levy flat at $66.6 million for the third year in a row. Proposed appropriations decrease slightly, in part due to a seven position decline in the County's full-time headcount. The County is maintaining a healthy fund balance of $61.8 million or 47.2% of annual General Fund operating expenditures, exceeding the minimum two months of operating expenditures recommended by the Government Finance Officers Association. With the exception of a slight decline during the economic downturn, the County's fund balance ratio has increased steadily since FY2006.
The report's five-year analyses indicate some negative trends for the County's pension liabilities. County employees are covered in four different groups by the Illinois Municipal Retirement Fund (IMRF). Funded ratios for all four DuPage County pension groups fell in FY2011. Because of the retirement of several officials, DuPage experienced a 39.2 percentage point drop in the Veterans Assistance Commission group and the Elected County Officials group funded ratio fell from 2.6% in FY2010 to a negative 8.0% ratio in FY2011. The IMRF will place DuPage County on a 30-year funding plan to get funded levels up to 100% for all four funds, but this could prove expensive in the long-term.
Highlights of trends in the County's appropriations, resources, personnel and fund balance are summarized below. The full report is available at www.civicfed.org.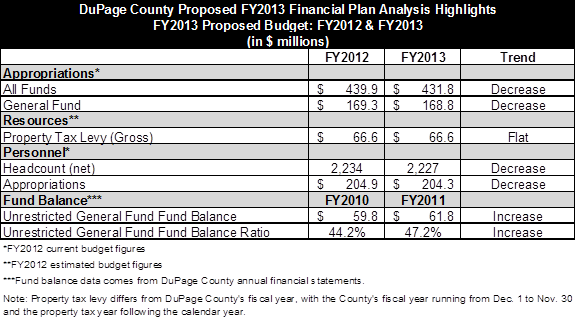 DuPageFY2013PressRelease.pdf