Public and Private Sector Compensation: What is Affordable in This Recession and Beyond?
Presented by the Civic Federation and the Federal Reserve Bank
Thursday, February 26, 2009 -

2:00pm

to

6:00pm
Federal Reserve Bank of Chicago 230 S. LaSalle Street, Michael Moscow Auditorium Chicago, IL
The Civic Federation, in partnership with the Federal Reserve Bank of Chicago, presented a forum on February 26, 2009 to examine differences between public sector and private sector wages and benefits and discuss best practices in work force sustainability and cost containment. The topics covered in the first panel included the effect of education level, job duties, and unionization on worker compensation in the two sectors; how economic trends such as globalization and rising health care costs have affected the two sectors differently; and the types of guarantees provided to workers in each sector.
After a short break, the second panel convened to discuss the wages and benefits required to attract and retain the ideal workforce in both sectors. Panelists considered labor cost containment strategies, predictions of future labor cost challenges, and the perceived gap between public sector pensions and the lesser retirement benefits available to many private sector workers. Both panels also answered questions from attendees.
Featured speakers for the two panels included Jay Mousa, Regional Commissioner, and Greg Philipaitis, Assistant Regional Commissioner for the U.S. Bureau of Labor Statistics; Keith A. Bender, Associate Professor, University of Wisconsin-Milwaukee; Jeffrey R. Brown, William G. Karnes Professor of Finance and Director of Center for Business & Public Policy, University of Illinois; Allen T. Steinberg, Principal, Hewitt Associates; James Franczek, Partner, Franczek Radelet & Rose P.C.; Jorge Ramirez, Secretary-Treasurer, Chicago Federation of Labor; Robert S. Molaro, Former Representative, State of Illinois (D-21st); and Hank Scheff, Director of Research and Employee Benefits, AFSCME Council 31. Lise Valentine of The Civic Federation and Rick Mattoon of the Federal Reserve Bank of Chicago served as moderators.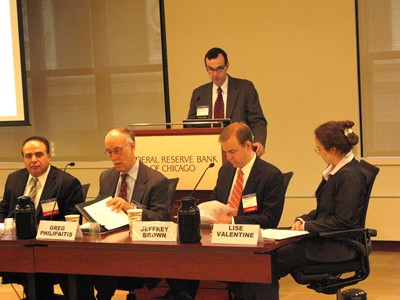 William Testa, Vice President and Director of Regional Programs for the Federal Reserve Bank of Chicago, welcomes attendees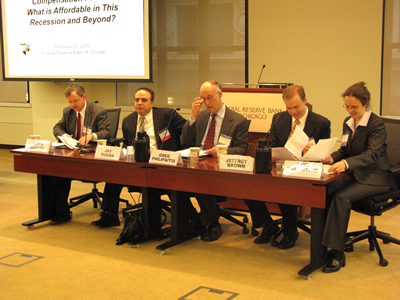 Members of the first panel, (L to R) Keith A. Bender of the University of Wisconsin-Milwaukee, Jay Mousa and Greg Philipaitis, both of the U.S. Bureau of Labor Statistics, Jeffrey R. Brown of the University of Illinois, and moderator Lise Valentine of The Civic Federation, compare notes before the start of the forum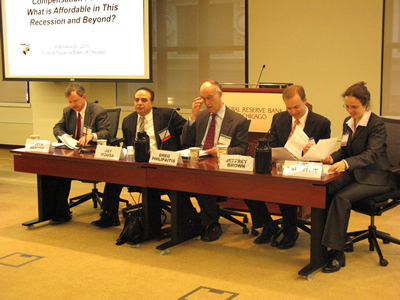 Greg Philipaitis, Assistant Regional Commissioner for the U.S. Bureau of Labor Statistics, presents BLS data on worker wages and pensions
Rick Mattoon, Senior Economist and Economic Advisor of the Federal Reserve Bank of Chicago, introduces the second panel (L to R) Allen T. Steinberg of Hewitt Associates, James Franczek of Franczek Radelet & Rose P.C., Jorge Ramirez of the Chicago Federation of Labor, Robert S. Molaro, Former Representative of the State of Illinois, and Hank Scheff of AFSCME Council 31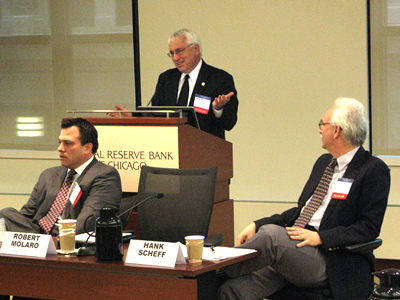 Robert S. Molaro, a Former Illinois State Representative, offers a historical perspective on Illinois' relationship with its employees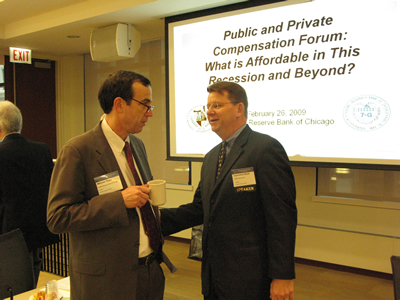 William Testa and Civic Federation President Laurence Msall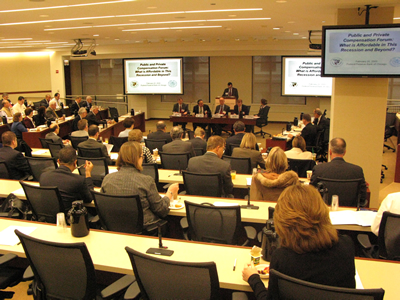 Forum attendees
090226_agenda.pdf
090226_Bender.pdf
090226_Brown.pdf
090226_Franczek.pdf
090226_molaro.pdf
090226_MousaPhilipaitis.pdf