Civic Federation Board of Directors Meeting with Stanley Ikenberry
Tuesday, February 9, 2010 -

10:00pm

to

11:00pm
Hosted by the Chicago Automobile Trade Association

McCormick Place
University of Illinois President Stanley Ikenberry spoke at the Civic Federation Board of Directors' February 2010 meeting regarding the State of Illinois' fiscal crisis and how it is affecting the state university system. He said the State owes U of I over $400 million and the lack of on-time payments is beginning to affect the University's ability to retain and attract talent:
I may be stating the obvious, but my point is, we matter. If the University of Illinois and the rest of higher education in this state are disrupted, if we are no longer high quality and dependable, if our operations are damaged or disrupted, the harm to individuals, communities, job creation, innovation, quality of life and future prospects in this State will be incalculable.
President Ikenberry also said that significant damage to the entire Illinois public university system has already been done:
The mounting problem is the financial nightmare that holds the State of Illinois in its grip. Already it has inflicted real damage and absent a solution the consequences will become more deadly. While I will be talking primarily about the consequences for the University of Illinois, the same story can be told for nearly every other public university in Illinois, for Illinois community colleges and public schools, for our hospitals and health care providers, and for the many vendors who do business with and depend on timely payment from the State.
To read his speech in its entirety, please click here.
"Metropolitan Pier and Exposition Authority Chief Executive Officer Juan Ochoa also spoke at the meeting, discussing the challenges the convention business at McCormick Place is facing due to the economy and other factors."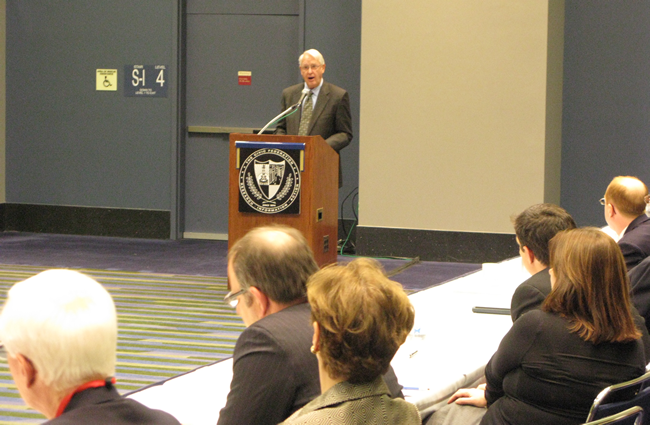 President Ikenberry addresses the Civic Federation Board of Directors.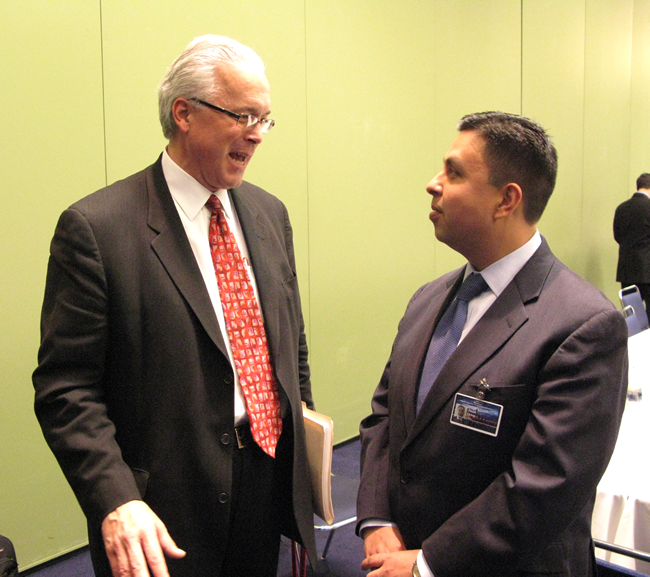 "Metropolitan Pier and Exposition Authority Chief Executive Officer Juan Ochoa (R) chats with Civic Federation Board member Glenn Mazade after the meeting."