The 19th Annual Motorola Foundation Excellence in Public Service Award Breakfast
Honoring James R. Reilly, Metropolitan Pier and Exposition Authority Trustee
Thursday, December 9, 2010 -

2:00pm

to

3:30pm
The Palmer House Hilton Grand Ballroom
17 East Monroe Street, Chicago, Illinois
On December 9, 2010 the Motorola Foundation and the Civic Federation honored the outstanding public service of James R. Reilly, Trustee of the Metropolitan Pier and Exposition Authority. Mr. Reilly is the 19th Motorola Foundation Excellence in Public Service Award recipient. The award recognizes a non-elected state or local government official who has had a positive impact on the quality of government services through extraordinary leadership, teamwork and innovation.
Mr. Reilly was appointed Trustee of the Metropolitan Pier and Exposition Authority (MPEA, also known as "McPier") by the Governor and General Assembly and has worked to streamline operations at McCormick Place, helping save Chicago's multi-billion dollar convention and trade show industry. Mr. Reilly also helped lead efforts to build Navy Pier as one of Chicago's premier tourist attractions and maximize the income the Pier generates.
Mr. Reilly has also served as Chairman of the Regional Transportation Authority, led the Chicago Convention and Tourism Bureau, was Chief of Staff to two Illinois governors and was an elected Representative in the Illinois General Assembly.
Illinois' business, civic and government leaders joined the event co-chairmen and past Motorola honorees for a breakfast award ceremony in the Palmer House Hilton Grand Ballroom recognizing Mr. Reilly's outstanding career in public service. Julie Hamos, Director of the Illinois Department of Healthcare and Family Services started the program with a welcome address.
The award presentation included a video about Mr. Reilly featuring commentary by former Governors Jim Thompson and Jim Edgar and current legislative leaders Michael Madigan and John Cullerton. Matthew Blakely, Director of the Motorola Foundation, introduced Mr. Reilly and presented the award.
In his acceptance speech, Mr. Reilly discussed the importance of bipartisan cooperation in government. He said that political discourse was too often pushed by those on the far sides of the political spectrum and that only with cooperation in the middle could reforms be made.
Click the links above to see Mr. Reilly's speech and the event program.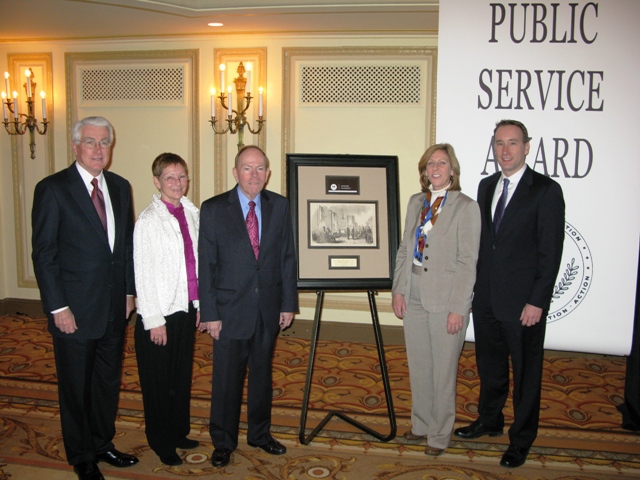 (L to R) Former Illinois Governor Jim Edgar, Veronica Reilly, Jim Reilly, Darcy Davidsmeyer, and Matthew Blakely of the Motorola Foundation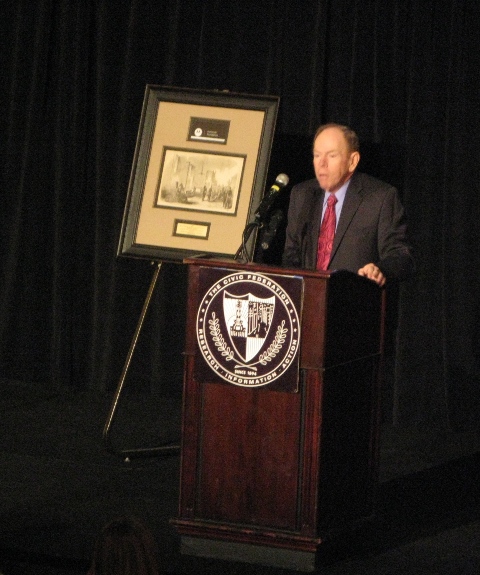 James R. Reilly accepts the 2010 Motorola Foundation Excellence in Public Service Award
2010 Program Book (FINAL).pdf
James R Reilly Remarks.pdf