Scroll down for program agenda.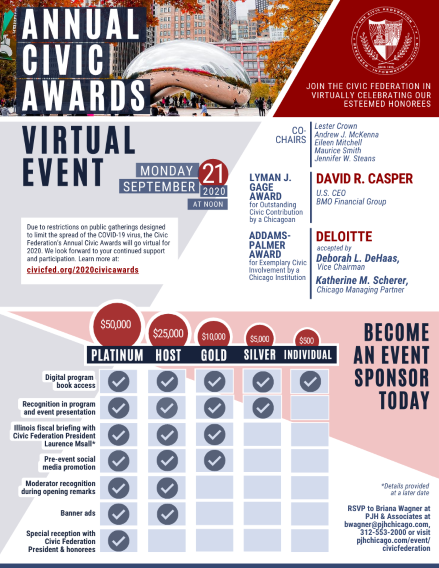 Event co-chairs Lester Crown, Andrew J. McKenna, Eileen Mitchell, Maurice Smith, Jennifer W. Steans and the Civic Federation are pleased to honor David R. Casper, U.S. CEO, BMO Financial Group with the Lyman J. Gage Award for Outstanding Civic Contribution by a Chicagoan and Deloitte with the Addams-Palmer Award for Exemplary Civic Involvement by a Chicago Institution. Deborah L. DeHaas, Vice Chairman and Katherine M. Scherer, Chicago Managing Partner, will accept the award on behalf of the company.
For sponsorship levels and registration, please visit the PJH & Associates website or click on the following links to view the sponsorship flyer and reply form.
PROGRAM AGENDA
Opening Remarks | Laurence Msall, President, Civic Federation
Salutation | Hon. Toni Preckwinkle, President, Cook County Board of Commissioners
Remarks | Monica Mueller, Chair, Civic Federation
Addams-Palmer Award Presentation | Andrew J. McKenna
Addams-Palmer Award | Deloitte, accepted by Deborah L. DeHaas, Vice Chair and Katherine M. Scherer, Chicago Managing Partner
Lyman J. Gage Award Presentation | Jennifer W. Steans
Lyman J. Gage Award | David R. Casper, U.S. CEO, BMO Financial Group
Keynote | Hon. Lori Lightfoot, Mayor, City of Chicago
Round Table Discussion with Honorees
Closing Remarks | Laurence Msall, President, Civic Federation